NEW CLUBHOUSE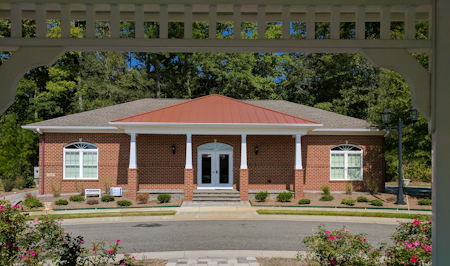 CLOSE TO EVERYTHING
Rock Creek Villa residents are within walking distance or short drive of restaurants, a 24-hour fitness center, and a salon and day spa. In addition, it is only a short drive to downtown Richmond and the Richmond International Airport; Williamsburg, with its boundless shopping outlets, restaurants, and history is a short drive in the opposite direction. New Kent Airport is less than ten minutes away. Enjoy living in a peaceful, gridlock-free, safe adult living community adjacent to a great golf course and close to fishing, nature, and other outdoor opportunities.
THE CLUBHOUSE AT ROCK CREEK VILLAS
Adjacent to a wildlife protected area, the clubhouse at Rock Creek Villas is a wonderful gathering place. Indoor amenities include a greatroom with fireplace, workout room, full kitchen, meeting room, and much more.
The rooms include space for bingo, card games, scrapbooking and other hobbies, as well as a meeting room for community gatherings and receptions.
The clubhouse also features a pavered outdoor patio with gas grill for outdoor activities.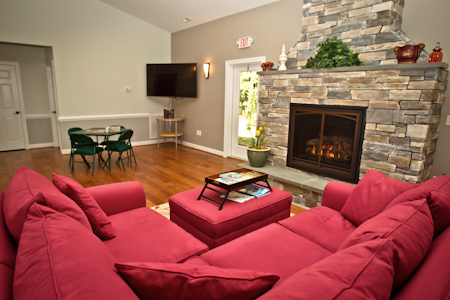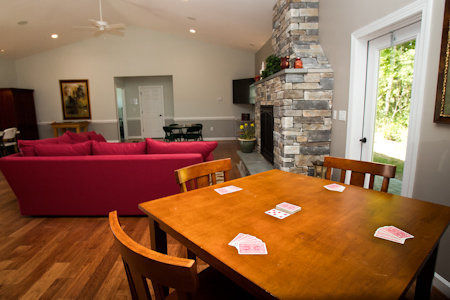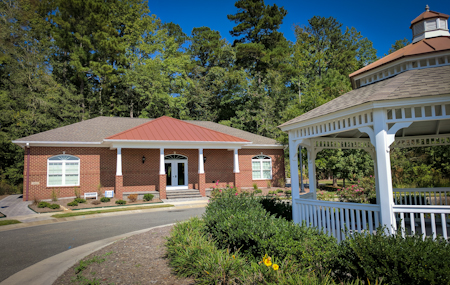 All photos on this page copyright 2017 Terri Aigner
BOATING-FISHING-KAYAKING
Public Access: (Fee)
Colonial Harbor Marina, Lanexa
Eagles Landing, Providence Forge
Ed Allen's Boats & Bait, Lanexa
Rockahock Campground
West Point Town Boat Ramp (Free)
SPORTING CLAYS & TARGET RANGES
Old Forge Sporting Clays, Providence Forge
Charles City Sporting Clays, Charles City
Chickahominy WMA, Charles City
Virginia Conservation Park, Charles City
SHOPPING & OUTLETS
Prime Outlets, Williamsburg
New Town, Williamsburg
White Oak Mall, Richmond
Boutiques – West Point
HISTORIC AREAS
Colonial Williamsburg
Shockoe Valley, Richmond
Jamestown Fort & Museum
Yorktown Victory Center & Museum
Kittiewan Plantation
Berkeley Plantation
Shirley Plantation
Sherwood Forest Plantation
Historic Petersburg
THEME PARKS & ZOOS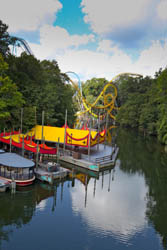 Busch Gardens Williamsburg
Kings Dominion (Doswell)
Water Country USA (Williamsburg)
Lewis Ginter Botanical Garden (Richmond)
Norfolk Botanical Gardens
Virginia Zoo (Norfolk)
Richmond Zoo (Chesterfield)
GOLF
The Traditions Golf Club at Brickshire, Providence Forge
Brookwoods Golf Club, Quinton
The Club at Viniterra, New Kent
The Traditions Golf Club at Royal New Kent, Providence Forge
The Traditions Golf Club at Stonehouse
Kiskiak Golf Course
WINERIES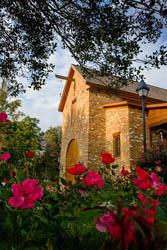 New Kent Winery
Gauthiere Winery
Saude Creek Winery
Williamsburg Winery
Upper Shirley Vineyards
PARKS & TRAILS
Wahrani Nature Trail, Eltham
Cumberland Nature Trail, Lanexa
York River State Park, Croaker
Crawford State Forest, Providence Forge
FARMERS MARKETS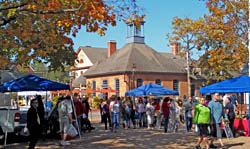 Market Square, Williamsburg
Seasonal Roadside Markets
– Quinton, Providence Forge, West Point, Lightfoot, Toano
ANNUAL EVENTS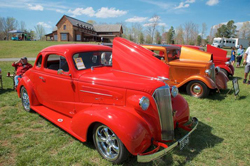 Historic Garden Week – Tour James River Plantations (April)
Classics on the Green & All-American Muscle Car Celebration – New Kent Winery (May)
Chickahominy Tribe Fall Festival (September)
Lion's Club Shrimp Feast (August)
Charles City Steak Feast (September)
Providence Forge Ruritan Fish Fry (March)
New Kent Wine Festival (May)
Thanksgiving (Berkeley Plantation, Shirley Plantation)
DINING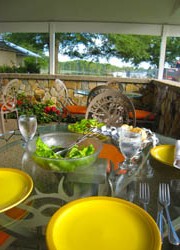 Nearby:
Third Base Grill (walking distance)
Domino's Pizza (walking distance)
Prima Pizza (family-style dining)
Waffle House
Marie's
Short Drive:
Brothers Pizza (Providence Forge)
Mexican Restaurant (Providence Forge)
Walker's Dam Grill Italian (Lanexa)
Two Drummers BBQ (Lanexa)
Colonial Kitchen Restaurant (New Kent Courthouse)
Williamsburg – hundreds of choices for casual to fine dining
Richmond – Shockoe Slip area – unique dining choices & nightlife
BICYCLING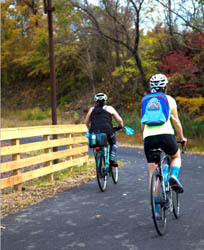 There are several state cycling trails through New Kent County, as well as on the beautiful Virginia Capital Trail along Rt. 5 just a short drive away in Charles City or Henrico Counties. It runs from Richmond to Jamestown and Williamsburg.
MODEL AIRPLANE FLYING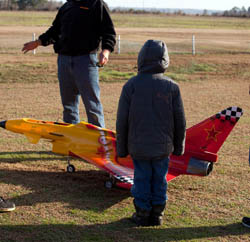 Colonial Virginia Aeromodelers, Charles City
Richmond Area Radio Control Club (Shirley Plantation)
MUSEUMS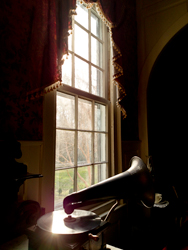 Virginia Museum of Fine Arts (Richmond)
Virginia Living Museum (Newport News)
Virginia Museum of the Confederacy (Richmond)
Valentine Museum (Richmond)
Chrysler Museum (Norfolk)
Mariner's Museum (Newport News)
Dewitt Wallace Decorative Museum (Williamsburg)
Harnett Museum of Art (U. of Richmond)
Lora Robins Gallery (U. of Richmond)
Poe Museum (Richmond)
Virginia Historical Society (Richmond)
Virginia Archeological Society (Charles City)
Virginia Holocaust Museum (Richmond)
Science Museum of Virginia (Richmond)
Children's Museum (Richmond)